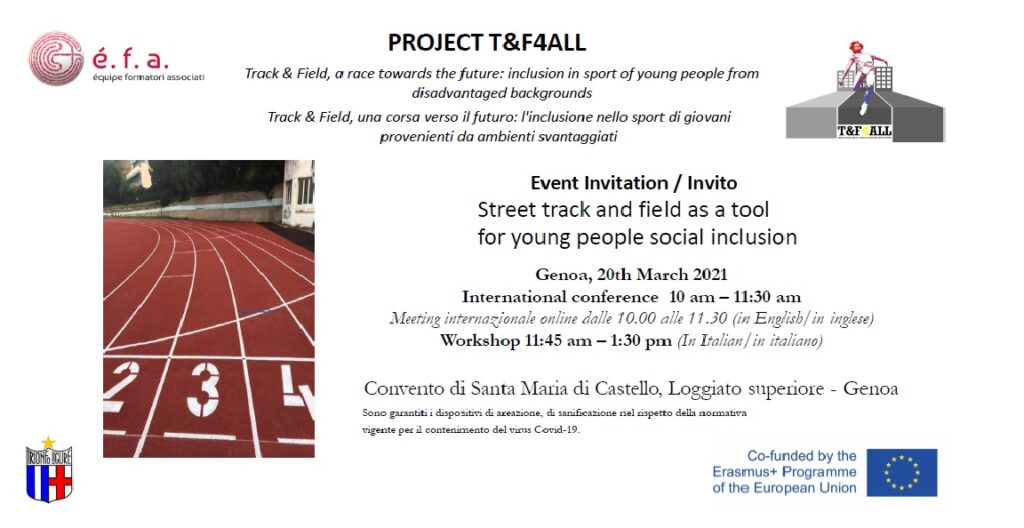 On Saturday 20th of March 2021 at 10 a.m. CET we organize the Event 1 in Genoa as a mixed one, both online and in presence. During the Event, in the first half, we will present the results of the Study we did in our Intelectual Output 1 on the concepts of Street education and Street Sport in each Country of our partnership, so that we can have the most complete definition of the subjects we analyzed. In the second part we will do a workshop with the local Associations and Communities that work in Education, Inclusion, Integration, Sport, so that we can focus on how to involve the target groups and how to move forward with our activities with the Communities/associations in the best way possible.
Here the link to the online meeting
Event Track&Field4All
sab 20 mar 2021 10:00 – 14:00 (CET)
Connect via computer, tablet o smartphone:
https://global.gotomeeting.com/join/175587117
Access Code: 175-587-117
To download GoToMeeting: https://global.gotomeeting.com/install/175587117
The European Commission's support for the production of this publication does not constitute an endorsement of the contents, which reflect the views only of the authors, and the Commission cannot be held responsible for any use which may be made of the information contained therein.